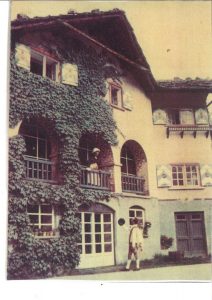 La Crestolina, is very likely one of the most unique Villas in the Lanzo area. Is dominating the Valley from an altitude of 1150m with a spectacular view of the surrounding mountains and the sound of the river reaching its windows. Engineer Tullio Miglietti, in 1927 asked his colleague and friend Michele Frapolli to build the villa. Mr Frapolli was an architect and engineer graduated in Zurich, Switzerland, specialized in Bavarian style buildings and the incredible Bavarian details are what make this Villa so unique together with the incredible location and the surrounding unsoiled nature. The architecture, and the structure of the building are an incredible mix of local stone, concrete, wood and paint seeing many master artisans working on it.
La Crestolina Today
La Crestolina, that used to be the summer residence of the family for over three generations, is now open to guests, offering, less than an hour away from Turin, the unique opportunity to jump straight into nature, and peace, in a place where history and mountains get to meet, in the amazing western Alps, far away from every day's life stress.
Guests will be able to enjoy the stunning view of the valley directly from their room, from the common living room, the veranda, or from the Terrace, where they can enjoy the nice and hot sun during the summer, and the snow in the winter. The garden, with its centennial trees is also available to our guest, to walk, relax do bird watching or read a book on our hammock.